GREEN SCREEN
We have our own purpose built studio with full GREEN SCREEN facilities all sides top and bottom painted flat walls so we can do advanced seamless integration.
Example stages of the Green screen process used on the feature film Sisterhood of the Red Garter below. Note the smooth green background as its painted on a wall, so seamless transition unlike material that has creases and folds which often carry through to the finished footage spoiling what might otherwise have been really good.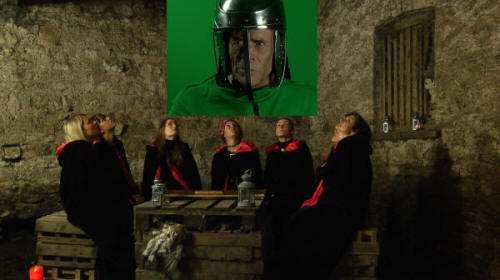 GREEN SCREEN can be used for a wide variety of projects from placing products and people in different locations anywhere in the world to creating fantasy characters and ghosts that can fly float etc for films. The example above shows the ghostly head being filmed green screen. That is then placed in the footage and finally the green removed to make it look like it was there all the time. You could for example place the MD in a exotic location to give an entertaining company presentation or perhaps you have a product that you can't afford to fly to an exotic location in which case we can easily make it appear as if you had. Options for green screen are limitless.
FOR HIRE
This facility is also available to hire for small to medium projects please enquire.
What ever your requirements we can help, please get in touch to learn how we can help you with your projects
+44 (0)1977 681949 or Email – info@nfdproductions.com
Recent customers have said:
"You work extremely hard for your money" – "Truly excellent work, should have done this years ago" – "Far better results than we ever expected" – "Excellent value for money"
We are based in the Leeds area and cover Yorkshire, Humberside, Cumbria, and North East/West areas but are happy to go almost anywhere.

NFD Productions © 2020